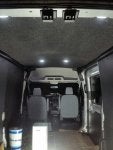 I have made short mentions of this in a few replies to other posts. I wanted to do a full write-up for others who might be looking for options for a ceiling.
I didn't want a fancy ceiling since my main purpose of the van is a toy hauler. I won't be spending any living time in it, but will spend many hours hauling mountain bikes, motorcycles, etc. I wanted a ceiling that was simple, durable, maintenance free, and inexpensive.
My goals for the final product were:
1. Noise deadening
2. Insulated
3. Look as factory as possible
I won't go into detail on
#1
and
#2
above because each can be it's own topic. Just for a quicky, noise deadening was achieved with HushMat from a stereo shop and insulation using 2" polyester batting from Hobby Lobby. That combination reduced the noise level DRASTICALLY. It's no different than an ordinary car now. I'll put more info in separate posts, but feel free to ask here if you want to know more before I get to that.
The ceiling itself:
I used 3 sheets of 4mm thick 4'x8' polypropylene. You can find it at some harware stores such as Menards, but a local plastics shop had Coroplast brand for a lower price ($13.99) in a variety of colors. I used black because I was covering it with dark carpet and didn't want any mistakes to show through as would white for example.
http://www.totalplastics.com/products/45
I cut a 2.5" strip off each piece and used it to bond the 3 sheets together to make one big sheet.
I used 3M Scotch-Weld SF100 cyanoacrylate adhesive. This stuff is very expensive for such a tiny bottle, but it works. It was on Amazon for a couple hundred dollars. Too expensive for me. I saved a search in ebay and it came up the next day for $22.20. One bottle did it for me.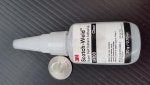 From what I read, the surface of polypropylene is inactive and will not adhere easily. I read were in manufacturing they excite the surface then glue it immediately. Apparently it goes inactive quickly. I did a test with lacquer thinner which I keep in the garage for parts cleaner. The guy at Total Plastics said that denatured alcohol has been known to work sometimes, but no guarantee. I know lacquer thinner melts some plastics, so I wondered if it would work. Not only did it work, but the bond was stronger than the substrate in my test. The combination of SF100 and lacquer thinner actually welded the pieces together. And it did not appear to harm the surrounding area except for slight dulling.
I made a template of the ceiling with cardboard boxes.
Traced the template onto the polypropylene and cut it out.
I wanted to use the stock holes in the ceiling ribs. They seemed to be perfectly placed. So I installed drywall anchors in them, screws, and cut the heads off with bolt cutters. The sharp screws put a dimple in the polypropylene when I temporarily installed it. I also wanted to put the stock dome lights back in the stock locations. I crammed a 2"x2" wood block in the hole and put a screw in the center. This marked the location for the lights.
I transported the ceiling on a stretcher made from E-track I would be installing later.
I temporarily installed the ceiling and lightly pressed where the screws were so they would mark the plastic. I didn't want them to punch through because then my drill bit would not stay centered.
.....Attachment limit reached. This post is continued in the next reply.....