Hi Everyone,
Was looking for rearview camera solutions / options when I stumbled on the VanTop rearview camera and after a quick search here it became clear I wasn't the first. Knowing I likely wouldn't be the last either I wanted to share my notes in the hopes it would help someone else, at least saving some time spend searching threads for the next person.
Saved / Reference Threads:
Full Time Rear view Camera
: Contains photos of several installs & of the product itself.
Advice on best way to hardwire VanTop mirror cam
: Contains several descriptions on wiring paths, approach and lesson's learned.
Install Tips / Notes:
After removing the rearview mirror to create a dedicated hard mount I ultimately elected to install as VanTop shows by attaching to the existing mirror. Looking from the outside and from the driver's seat it's really hard to tell it's not a direct mount; at least with the 12" unit. I purchased the parts to emulate

keitho's setup

but in the end I elected not to use them.​

Before doing anything remove the plastic trim around the mirror and uninstall the cargo lights. Use a non-marking tool to avoid damaging the parts, which simple snap together. Doing this first will give you the most room to work. Should look like this:​
I was able to fit all the associated cabling under the cover for the rearview mirror and within the cargo light area. You'll need to go slow, use a couple zip ties, but completely manageable. The cables which connect to the mirror will fit in the existing opening for the rearview mirror, just need to go slow when reattached the trim.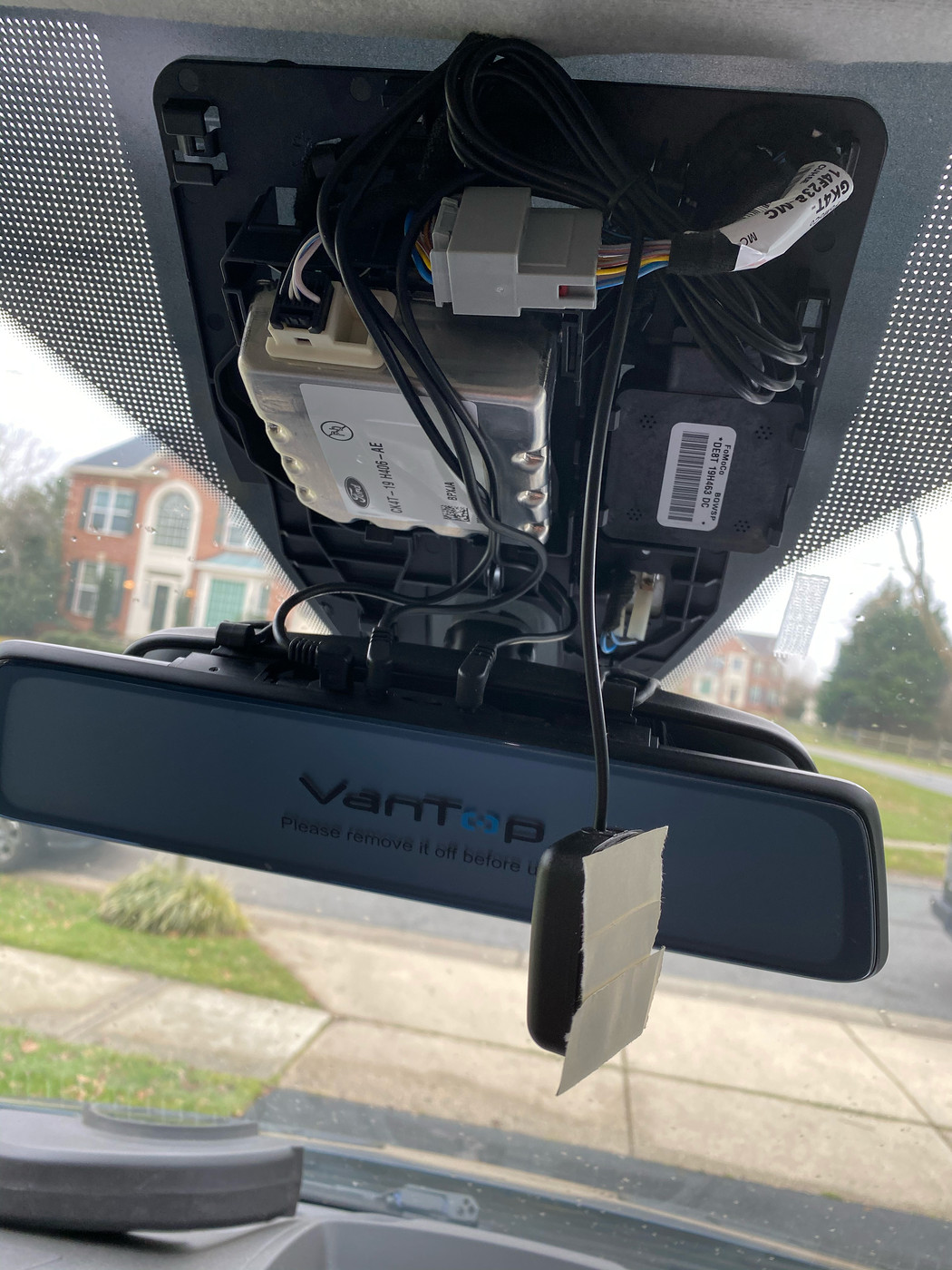 I wanted the unit to be powered when the engine was running as I'm using this only as a rearview mirror. As such, rather then connect to the CCP or Passenger fuse box, I utilized the power already within the overhead lights area. (For this reason, I did not purchase the hardwire kit.)
Personally, I did not like the idea of taping or mounting the included camera on the outside of the van. Instead I wanted the camera to look integrated within the 3rd brakelight assembly similar to uglyweld's setup. Basically I removed the 3rd brake light, (4) 7mm bolts, and using a Dremel tool and razor blade carefully cut a hole for the camera. Important: Cut the opening tight so to can adjust the angle and depth to the perspective you'd like before gluing. To secure I used a standard black RTV adhesive.
Note: This photo is after removing the brake light lens.
Finished product. Looking at the angle of the lens you can see the difference in viewing area when comparing.
Hope this helps someone else and good luck / enjoy your own setup. Very happy with the product and results.