Hi Everyone,
Wanted to share my notes in the hopes it would help someone else, at least saving some time spend searching threads for the next person as this topics seems to be well discussed, but a bit scattered in a few different locations. (I'll keep updating as I find others.) My specific installation was on a 2019 350 with 10 way power leather seats both heated and with lumbar. Additionally the van is equipped with the "PUSHDOWN MANUAL PKG BRAKE" option.
Notable Tools:
T40 Torx Bit to remove the bolts which connect the seat rails to the base.
Cutting tools - Jigsaw or angle grinder.
Saved / Reference Threads:
Official OE
Scopema install instructions here
.
Joe-slc's
Overview on entire installation process
Far Out Ride: Driver Installation, Dual Battery Modificatio & E-Brake Relocation
: Contains a good basic step by step on what to expect, include the parking brake modification*
Far Out Ride: Passenger Installation
: Same but for the more straight forward / easier passenger side installation
Video overview of installation by
Timrosemusi for those who prefer a video example
Video Installation by Outdoor Wanderlust;
passenger side installation
.
Cable Rubbing on Power Seat?
Suggested solution by Larseaki
(I'll keep adding as I clear my old browser favorites)
Install Tips / Notes:
PUSHDOWN MANUAL PKG BRAKE: This made installation of the driver side swivel possible without any modification or use of the e-brake relocation bracket. The result was an installation time consistent with the passenger side, with similar ease.
Alignment of Bolt Holes: I read many posts about having to reem or expand the holes to get the Scopema swivel and factor seat base to align. When test fitting my driver's side was only allowing 3 of 4 holes to align easily. However, rather than drill any material, I lifted the swivel off the base when starting each bolt, to allow the threads to engage. Effectively, getting all 4 bolts started 2-3 turns then I lowered the base and alternated tightening each bolt a couple turns at a time. It was tight but it was possible without any drilling.
Cutting the Trim: I used the backside of the plastic as my guide but effectively you are removing 1.5" in a straight line. You should not need to cut the frame which holds either the seat heater or lumbar buttons. Here I would suggest a jigsaw with fine tooth blade and orientating the seat so the cut is natural to make. Important: Use a painter tape or something similar to prevent scratching of the plastic. Photo Credits: Outdoor Wanderlust & BabyBuffy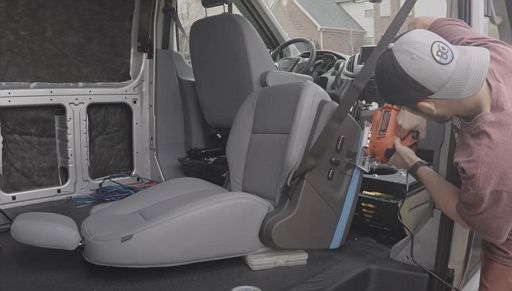 Modifying the Seat Base: Surprised more people don't do this to allow access to the jack and area under the seat. Super easy to cut, I simply connected the existing slots which were punched in the base with the fore mentioned jig saw. (Photo Credit dcp6904)
Power Seat Rails: I drilled / milled clearance holes in the Scopmea swivel to allow the seat rails to sit flush.
Power Seat Motors: As noted in a couple thread the plastic bracket which holds the motor can make contact with the seat swivel. Rather then install spacers / washers, I applied a couple zip-ties to pull the motor and bracket slightly towards the seat bottom.