Discussion Starter
·
#1
·
As an accidental experiment, I just spent 2 weeks and 2,000 miles driving circles around California in my uninsulated camper van.
I have a low roof Transit that has been converted (seats, cabinets, popup top, etc..) but is basically uninsulated - there is a bit of covering on the walls (coroplast plastic) and I have a popup top with some insulation, but I don't have anything at all inside the walls and the floor is still stock black plastic over thin insulation.
Soundproofing and Road Noise
Like many here on these forums, when I first bought my empty cargo van, soundproofing was on my mind a lot because the van was very noisy. However, now that I've added my (insulationless) conversion, I've noticed that, at least in the driver's seat at 50MPH and up, the wind noise from the side mirrors is much louder than anything inside my van. Fortunately, as I like my side mirrors, a little music from the radio easily overcomes the wind nose. Since, even without any insulation, unavoidable wind noise is the limiting factor in a quite ride, soundproofing beyond whatever comes from insulation seems superfluous.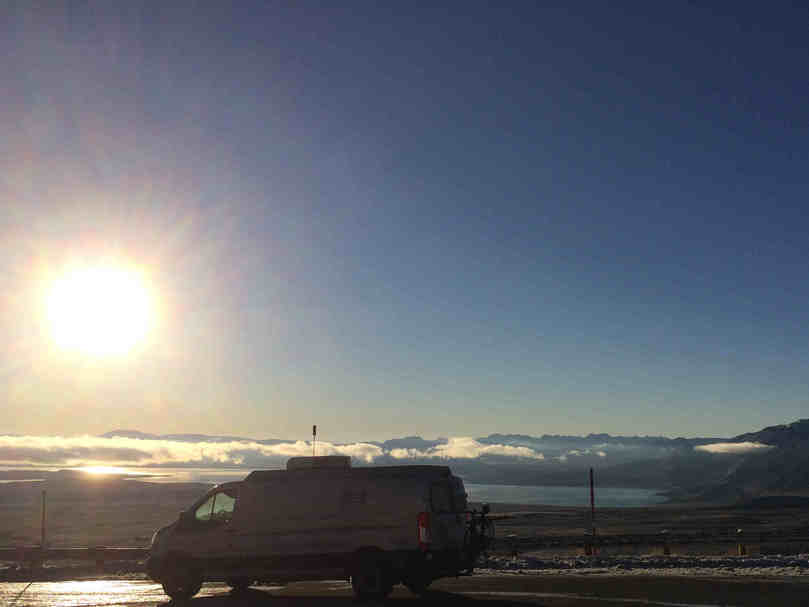 R-Value is What Counts
During my trip, I mostly camped with lows in the 40s and 50s. However, I spent a few nights with lows of 5F in Bridgeport and Bishop. Here, I learned the importance of R-value. I have a relatively small 7,000BTU propane furnace mounted under the van. The furnace blows out very hot air and the vent is strategically placed. The system worked fine at 45F, but, at 5F, without insulation, it couldn't keep temperatures inside of the van warm - I'd estimate the temperature at my bed was 50F while remote parts of the van were colder. Also, I realized that as there is only 1 vent, without good insulation, it won't be possible to evenly warm the van.
Also of note: The stock floor was very cold. My 5 gallon water containers inside the van didn't freeze, but my water pump, mounted in the passenger side wall, froze. Fortunately, the water pump worked again once it thawed.