3.2L powerstroke tuning box "Bluespark Pro w. Boost control"
---
I was going to wait a bit longer to post, to get more familiar with the different settings, but I know some of you were curious as to the functionality of this box.
Before I even ordered my Transit I was looking up tuning boxes, ECU remaps, sensor "foolers", even full emission deletes. What I found was that there were almost no aftermarket products or support for the 3.2 diesel here in the US. This means, whatever I do, I am on my own. This is also my everyday work vehicle so I have to make sure whatever I do is safe, not too expensive (or at least worth paying for the product), and will not void my warranty. So, even though nothing beats a good ECU remap and emissions delete, my only option at this time is an easily removable tuning chip/box that will safely add the extra power that I want without voiding my warranty
The" Bluespark Pro with boost control" is the only tuning box I found that "dynamically" changes both common rail senor and boost sensor output. My reasoning for both is the more fuel that is added the more air is needed to allow a complete burn, which in turn will keep the DPF from filling as fast. I also like the fact that this box can drop the output to stock once the maximum rpm is achieved, as not to stress the emission/exhaust system too much.
So I ordered it last Wednesday and received it this Tuesday, not bad for overseas standard shipping.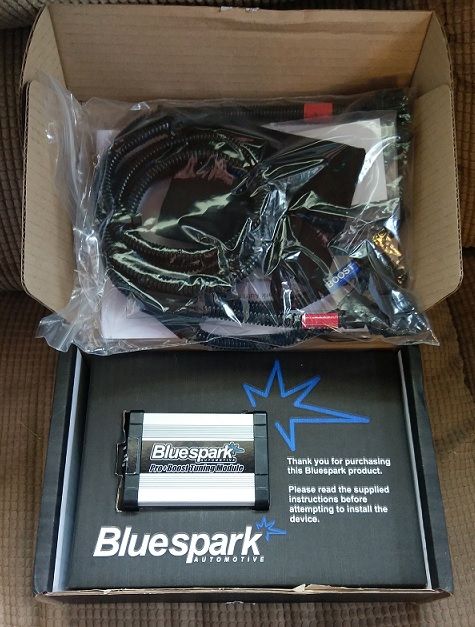 So it came with the basics, tuning box, wiring harness, instructions, a couple of zip ties, and….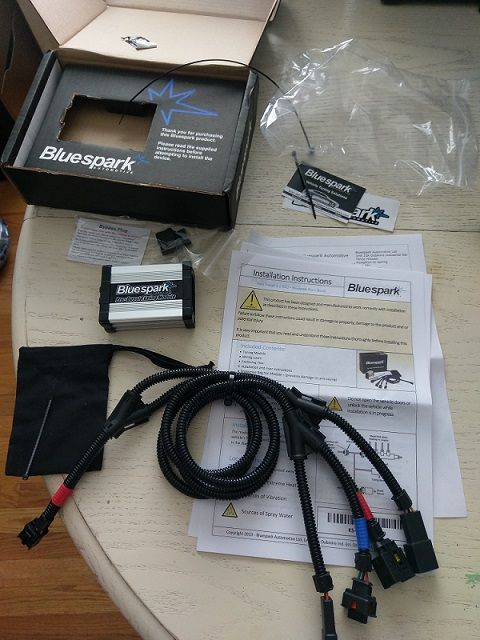 A bypass plug, so you can remove the box without disconnecting the wiring, nice little bonus.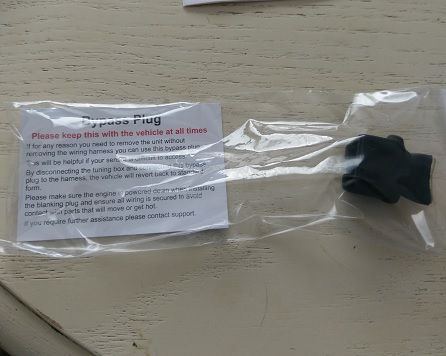 I am not sure why I wasn't that surprised, but the pictures that show the location of the sensors and the placement of the wiring was definitely not of the 3.2L powerstroke.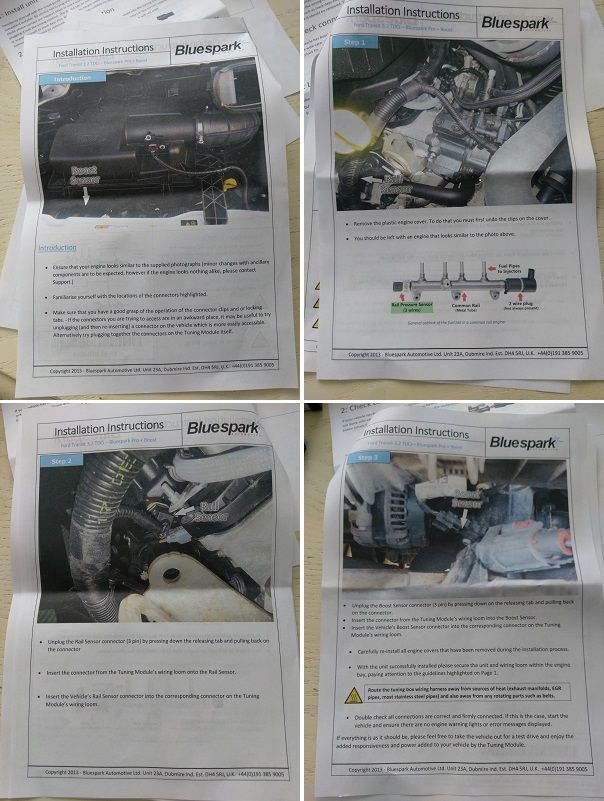 After removing the foam engine cover, it didn't take long to figure out where the sensors were. The rail pressure sensor is all the way at the back end of the common rail.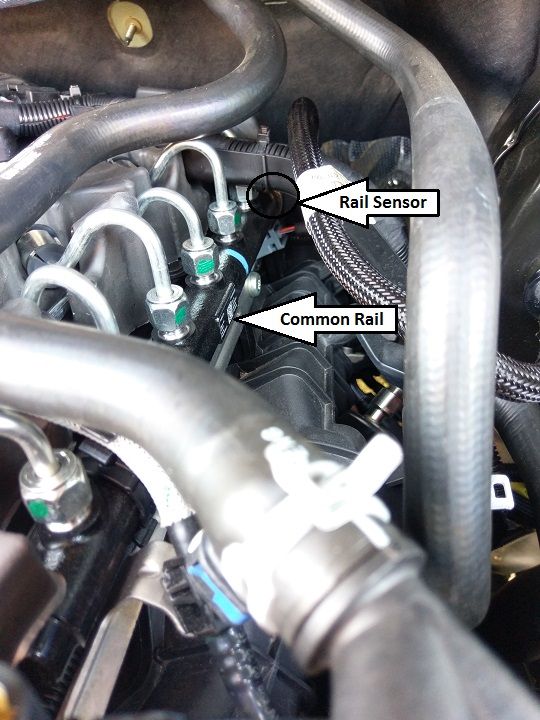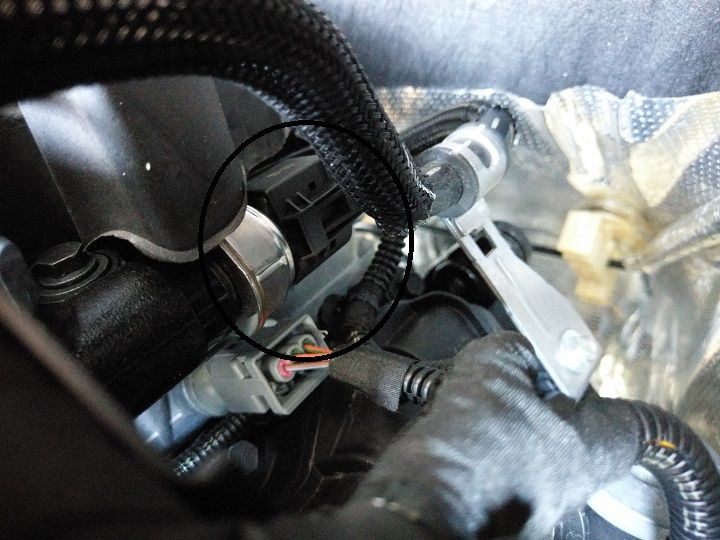 Removing the plug was painless.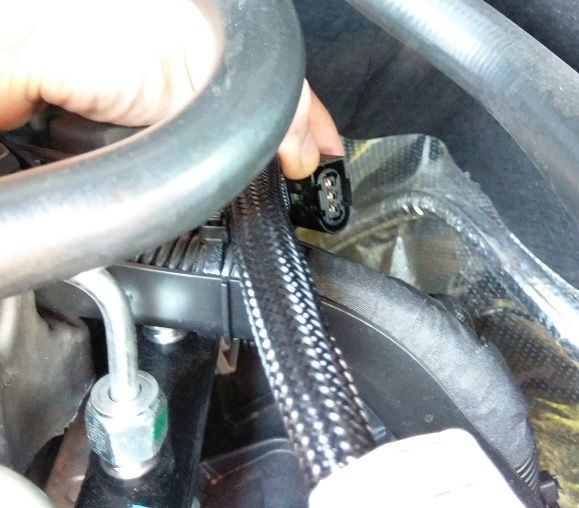 Next up is the Boost pressure sensor (map sensor)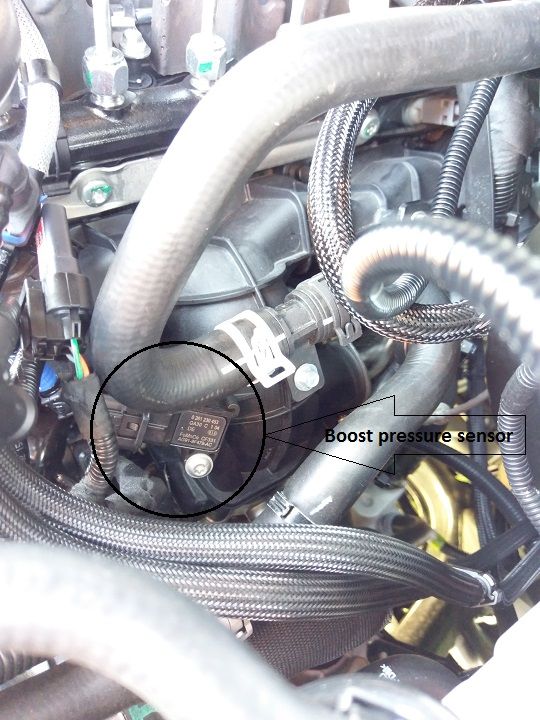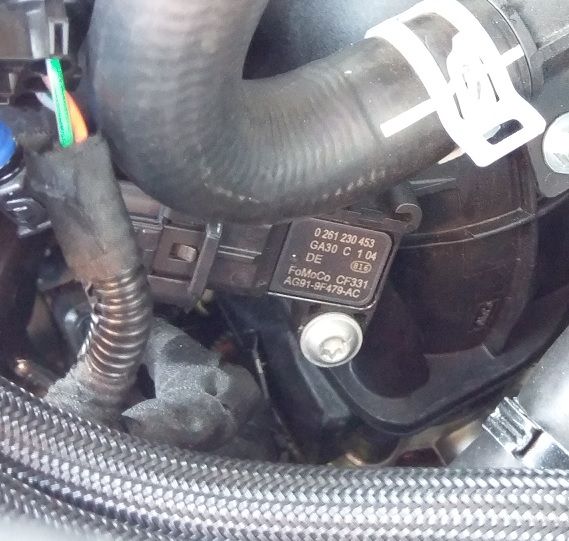 I quickly zip tied the wiring and the box just to see if this thing will actually work and quickly return it if it doesn't work or throw codes.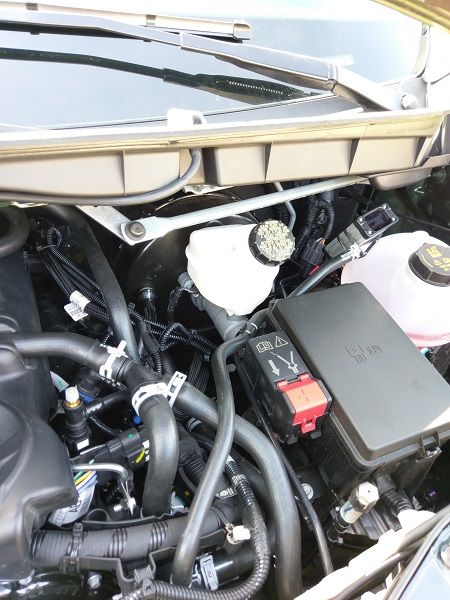 YAY, NO CODES AND IT WORKS......... More to come
---
2016 Transit van- MR 148", 3.2l, 3.73 LS, Green Gem, with every option.
Senior Member
Join Date: Feb 2015
Location: Portland
Posts: 238
Mentioned: 0 Post(s)
Tagged: 0 Thread(s)
Quoted: 53 Post(s)
Excellent write up! I don't have the 3.2 but I appreciate your step by step description, bravo.
Senior Member
Join Date: Aug 2015
Posts: 1,088
Mentioned: 3 Post(s)
Tagged: 0 Thread(s)
Quoted: 362 Post(s)
Yes! Thank you for the info, as said, excellent work!

Please keep us posted!

I put a mild, 40HP, Banks chip in my 96 F350 7.3 Powerstroke about 15+ years ago...still running it with 212K miles.
Might even consider doing something to my 3.2 Powerstroke- I too do not want to lose my warranty so it has to be removeable without a trace.
---
"Beluga" 2015 350HD 3.2D, 3.73, EL, HR.
Junior Member
Join Date: Jun 2015
Posts: 7
Mentioned: 0 Post(s)
Tagged: 0 Thread(s)
Quoted: 0 Post(s)
Great write-up - Any additional first impressions after driving around?

Sent from my STV100-1 using Tapatalk
Senior Member
Join Date: May 2016
Posts: 292
Mentioned: 0 Post(s)
Tagged: 0 Thread(s)
Quoted: 120 Post(s)
I have owned diesel trucks for 20 years and I have been using tuners on every single one including my current 2008 Dodge. The game has totally changed since mid 2007 when all the new diesel emissions rules came into effect. My 2008 had a DPF, EGR and 2 catalytic converters. Current diesels add the DEF in the mix. All of those new emissions related equipment have ruined modern diesels and killed their economy.

What you are using is a "fooler", they have been around for years and trick the sensors so you can run higher rail pressure and turbo boost. They used to be a great low cost way of improving your trucks performance. Now they are a huge mistake if you have not removed the emissions equipment. Now you need a true tuner that reprograms the truck to not open the EGR and either change the DPF burnoff schedule or remove it entirely. A "fooler" used on modern diesels will ruin the emissions equipment and will cost you thousand of dollars in repairs. The dealer knows instantly that you are running a "fooler" because all the value are saved in the computer.

Spend some time on the Ford and Cummins diesel forums and you will see the damage a "fooler" will do and why they are not to be used on a modern diesel.

The fact that no true tuner is available is the only reason I went with the Ecoboost. As soon as a reputable company like Green Diesel Engineering makes a tuner for the Transit I will buy the diesel and enjoy great power and mileage. Not power or mileage as in the Ecoboost.
First impressions
---
Ok, so after having fun with this tuner for a couple of days I feel that I have enough useful information to give my first impressions.
First and foremost, this is not a cheap "fooler" with just a couple of resistors inside the box that you find on Ebay, which can hurt engines and emission equipment. The programming in this tuner dynamically limits the maximum output of the rail pressure to within OEM limits and syncs the boost pressure to match the fuel output (as not to foul the emission equipment). I will talk about this later.
So the tuner comes with a couple of settings. There are 5 settings on the jumper for 5 distinct maps. The potentiometer adjusts the level output for map you choose (0 = turns off any additional output and 9 = 100%)

Here are the 5 maps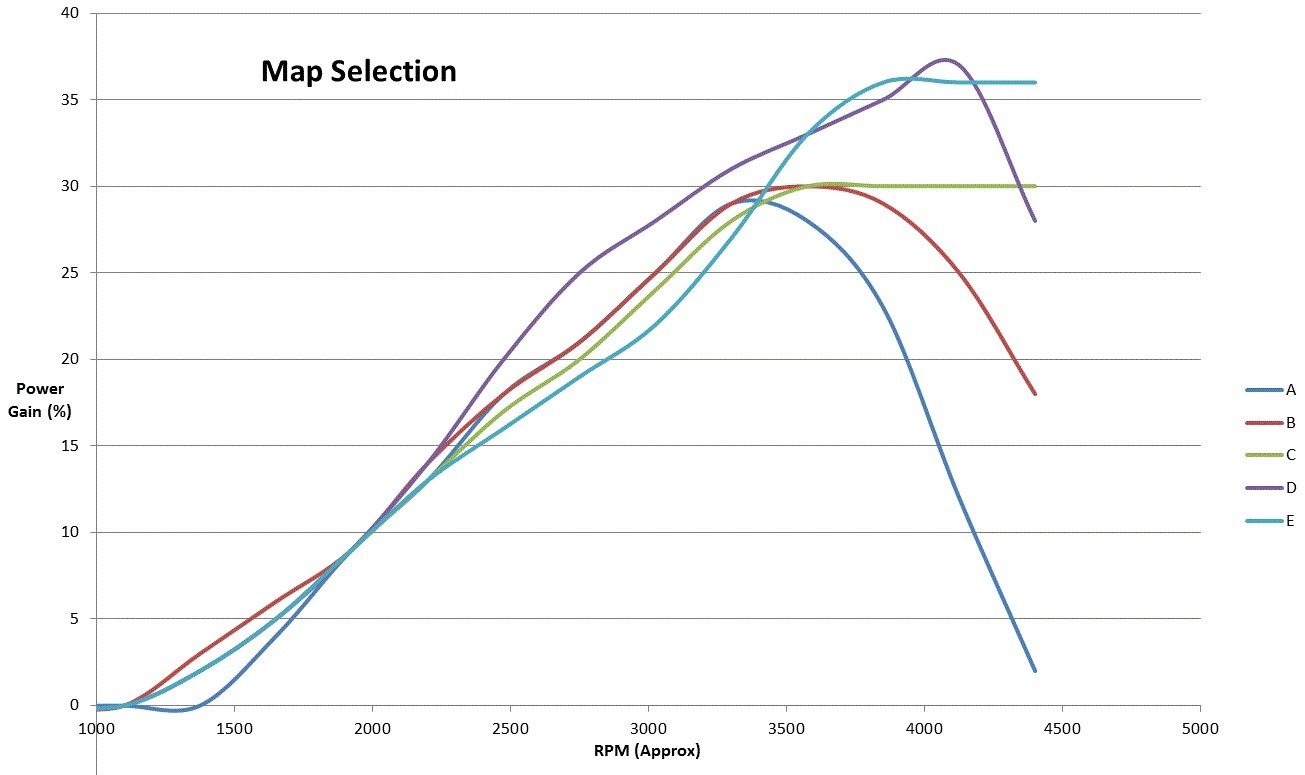 I started off with the default setting (B5):
Right off the bat I noticed a much better response from idle. The acceleration was better than stock, but still too slow for my taste. I did notice the MPG gauge drop to 12-14mpg, even though I still achieved 210 miles from a ½ tank of diesel. This probably means the calculations take the high pressure fuel pump duty cycle into account.
I started off with this setting because I was worried that too much of a sensor output change would set off the CES light (CES never turned on).
Next step up (B6):
I couldn't help it but to switch to this setting after only 1.5 days. I did notice a difference in acceleration right away. This setting is about on par with the 3.5 Ecoboost Transit but with a faster response. The one thing that I didn't like was that the extra torque increased the stall speed about 300 RPMs higher, so the shifts were at a higher rpm. The one thing that I like seeing though is the DPF did not fill any faster than stock.
My current setting (B7):
This is where it got fun. This setting is definitely "seat of the pants" fast, with an instant response. I wouldn't be afraid of taking on any stock 3.5 ecoboost Transits. The RPMs does seem to climb even higher than the previous setting due how fast the engine accelerates. I also noticed "IF" I drive it like a normal person the DPF does seem to fill up a little slower than when it was stock (about 20%), but If I "drive like I stole it" it does fill up about 30% faster.
After about 200 miles I did start noticing the transmission spending less time in each gear, the MPG gauge starting to show a more on par number, and the shifts getting firmer. This made things all that much better. I now can get pushed back into my seat, pass the other cars, and see the transmission shift nice and firm at a nice easy 2500 RPMs.
More later…..
---
2016 Transit van- MR 148", 3.2l, 3.73 LS, Green Gem, with every option.
Senior Member
Join Date: Aug 2015
Posts: 1,088
Mentioned: 3 Post(s)
Tagged: 0 Thread(s)
Quoted: 362 Post(s)
Appreciate the info! Keep it coming!

Curious where you got the graph- is one available including the stock performance trace? Of course it would have to graph torque and/or horsepower.
---
"Beluga" 2015 350HD 3.2D, 3.73, EL, HR.
---
Last edited by Budsky; 09-11-2016 at

10:25:AM

.
Senior Member
Join Date: Jul 2014
Location: Portland, OR
Posts: 165
Mentioned: 2 Post(s)
Tagged: 0 Thread(s)
Quoted: 70 Post(s)
How are you calculating how fast or slow the DPF is filling up?

I have the active regen with regen inhibitor option, so I just turn off the regen all together and see how many miles it takes to get to 100%.
I drive in the City of Chicago, lots of stop and goes, and I let the engine slow down van before I break (cools the DPF even more), which is the worst possible scenario when it comes to keeping the DPF clean. So, I only average about 60 miles per regen cycle.
---
2016 Transit van- MR 148", 3.2l, 3.73 LS, Green Gem, with every option.
Senior Member
Join Date: Jun 2014
Location: Ontario
Posts: 480
Mentioned: 0 Post(s)
Tagged: 1 Thread(s)
Quoted: 167 Post(s)
You should post those videos here too.
---
RIP Lemmy. Of all the things I've lost, I miss my mind the most.

Long tall cargo 250 3.2 3.73lsd
Posting Rules

You may not post new threads

You may not post replies

You may not post attachments

You may not edit your posts

---

HTML code is Off

---