Senior Member
Join Date: Feb 2014
Posts: 890
Mentioned: 1 Post(s)
Tagged: 0 Thread(s)
Quoted: 296 Post(s)
Some of the disadvantages that I've personally experienced with a window van (which apply to all models) that I won't repeat include:

Lack of ventilation. RV windows with screens would have been so nice on so many occasions. Granted today they make screen doors but it's not the same, or 100% of the solution. A couple of my windows open slightly but they are not enough. And we prefer not leaving front windows open -- not that they'd help much when camping in back of van. Besides, windows need screens that are easy to use.

Cooling and heating. Windows transfer so much heat that it's almost pointless to insulate the rest of the van. And when parked in the sun it can become a greenhouse in minutes. This adds a lot to cooling and heating loads.

Privacy. You can install curtains but when they are required 360 degrees around you it makes van feel odd. It doesn't feel like being inside a normal room. On the other hand sometimes having windows all around to view nature is great.

Affect on floorplan. It's easy enough to place a cabinet in front of a window (I've seen it on Westfalias, Sportsmobile, and others) but normal instinct is to leave windows exposed. And that has advantages and disadvantages. When you block access to windows it makes it hard to clean them or dry condensation if they sweat, etc...


We went with a window van to convert because we were downsizing from a larger Class C and thought a window van would feel larger. We also thought that it would make it easier to park at home since it doesn't look like a camper (HOA restriction). If we end up with another van it will start life as a cargo version and we'll take our chances with HOA.
Senior Member
Join Date: Jan 2014
Location: Occidental, Ca.
Posts: 3,057
Mentioned: 7 Post(s)
Tagged: 0 Thread(s)
Quoted: 1104 Post(s)
---
2015 high roof 148" WB 3.5 Ecoboost 3.31 LS rear cargo.
Senior Member
Join Date: Oct 2014
Location: SA Texas
Posts: 351
Mentioned: 0 Post(s)
Tagged: 0 Thread(s)
Quoted: 109 Post(s)
These are photos that I got off this site. I would love to give the owner credit but cannot find where I got them. I saved them for my own information because photos of wagons are hard to find on this site. Again, I apologize to the owner of the photos.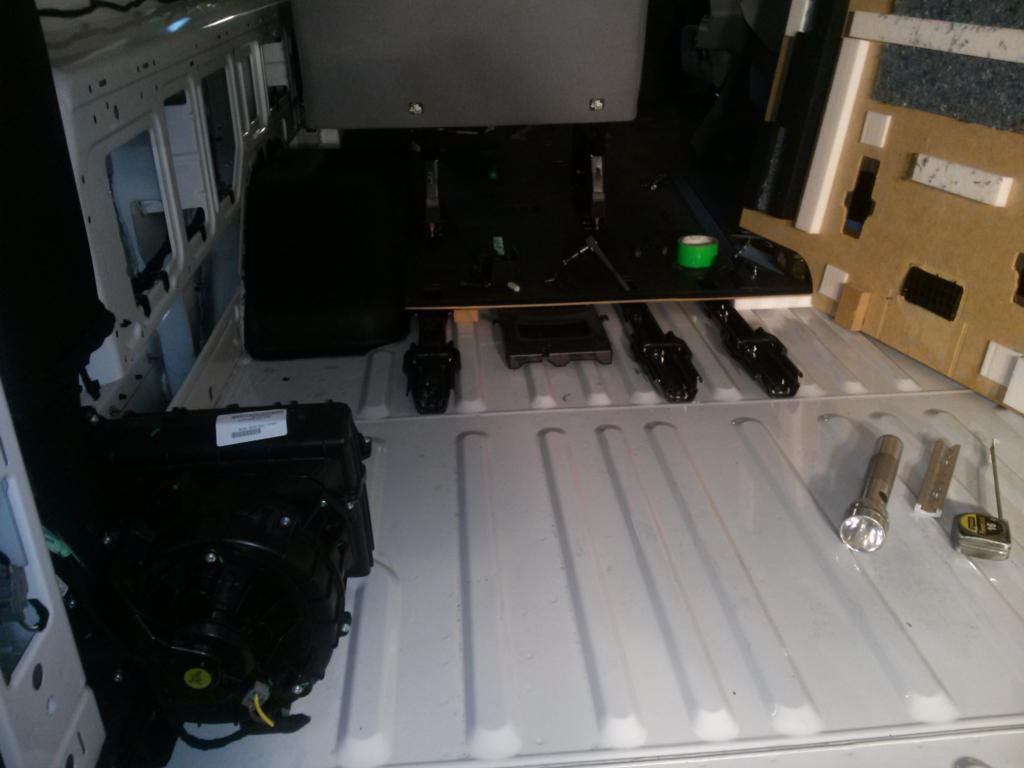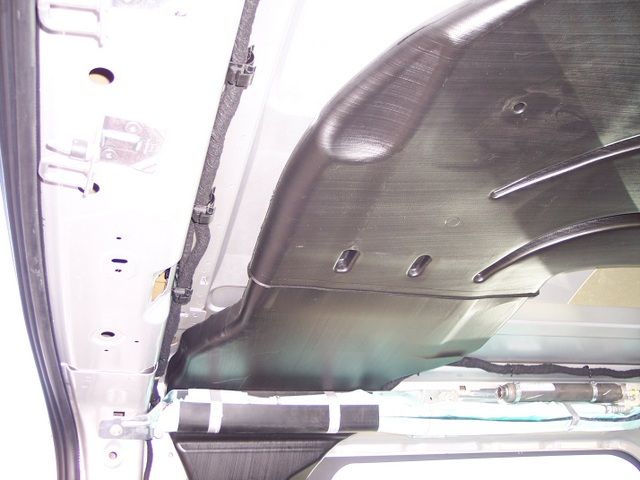 ---
2016 Transit XLT 350 MR 148" Ingot Silver, 302A, 57B, 99M, 446, TC8, X7L, 17K, 41C, 43R,52C, 53B, 59B, 57N, 584, 63C, 63E, 66P,68H,86F, 90C, 92E
Senior Member
Join Date: Sep 2014
Location: Destin, Florida
Posts: 127
Mentioned: 0 Post(s)
Tagged: 0 Thread(s)
Quoted: 27 Post(s)
I am about 80% complete on my 2015 12 passenger. Removed seats-sold most of them. Removed curtain airbags-this is a real pain, do not recommend it. Removed floor and vent system for rear A/C unit. A/C unit remains. Installed Coleman roof a/c, Norcold 6.3cf Refer LP12v,120v,, Suburban H20 Htr,LP,120v,, 30x48 HomeDepot Shower w/sliding glass windows/combo Thetford Aqua Magic Toilet, RoofTop Carefree Electric Awning, 120v Microwave $99 sits on top of refrigerator, 20 gal horizontal propane(under), 30gal fresh water(inside), 30gal black water(inside), 30gal black water (inside), 6 gal black water (under). Level II Tank Monitor. Three Lead Acid Sealed AGM 200 Amp 12v batteries, 4000w Aims Inverter, 400 watt Renogy Solar-40amp Charger. Sterling12v B2B Battery charger. Fan-Tastic Vent. My bad for not posting pictures as I progress, but promise to do detailed pictures etc once finished. I would rather go to have my molars pulled than try to transfer pictures to this computer. Why am I standing upside down or sideways in my pictures? I will learn how to post pictures when I'm done. Started project mid-October 2015. Working at least 4 hours a day, 6 days a week, having too much fun. My first retirement project. Expect to finish by end of April..
---
2015 350HD 3.5L EB, HIGH ROOF, DRW LWB EL, Passenger Wagon, MyTouch. Tuxedo Black aka RoadWagon-Destin
Member
Join Date: Feb 2016
Posts: 51
Mentioned: 1 Post(s)
Tagged: 0 Thread(s)
Quoted: 13 Post(s)
We asked ourselves just these questions as we commenced upgrading from a Honda Odyssey to a Ford Transit in order to get more living room on the road.

The thing that stopped us getting the wagon is the side air-bags. We are having a penthouse roof put on our RB, low-roof van in the summer, and that conversion cannot be done on the wagon because of those air-bags.

Luckily we found a cargo van configured just as we want. In particular, with respect to that "unfinished" look of the base cargo van, ours has the vinyl flooring and black panels on the walls, so it's a cleaner look. Our new van Fergus arrives at our house tomorrow, all being well.

We're delighted to have found this forum. In particular, we appreciate the information from those who, like ourselves, are converting the van for livability.

Regards,
EJB
Senior Member
Join Date: Feb 2014
Posts: 890
Mentioned: 1 Post(s)
Tagged: 0 Thread(s)
Quoted: 296 Post(s)
Quote:
Originally Posted by
orton
A hole in the floor combined with an open roof vent will reduce the heat gain. I know immediately when entering the van if I forgot to open the floor hole and the roof vent. Works best when outside air temperature is cool.
Yeah, cool days are always nice, and give us lots of options to stay comfortable. A 100 F sunny day not so much.
Hopefully new van glass is much better than old vans', but either way it's going to take a lot of AC capacity to camp if parked in sun. For us the beach is one example without much shade.
Another detail I don't like about window vans is that windows are located to optimize visibility while seated. This is an issue even when adding windows to cargo vans. When standing inside many vans, windows are way too low to look out towards horizon. Fortunately most people don't stand much inside a camper except for cooking, but you do notice the difference when comparing vans and other RVs. And not all vans are equally as bad in this area.
Senior Member
Join Date: Jan 2014
Location: Occidental, Ca.
Posts: 3,057
Mentioned: 7 Post(s)
Tagged: 0 Thread(s)
Quoted: 1104 Post(s)
---
2015 high roof 148" WB 3.5 Ecoboost 3.31 LS rear cargo.
Member
Join Date: Aug 2015
Location: TN
Posts: 46
Mentioned: 0 Post(s)
Tagged: 0 Thread(s)
Quoted: 9 Post(s)
As for as the pass van. I like the windows, always have, as we drive long distances, and the view is part of the experience, as far as the thermal loss/gain from windows, ok,. I still insulated the roof, both acoustically and thermally, as well as the side walls where I could. The air bags... a mixed blessing. safety factor, yes, but limits the design somewhat. You can remove them and maintain the system, you can purchase a module that takes care of this if you desire. However, the sidewall air curtains run from back to front, and I didn't want to remove that much protection. I wanted the rear air, thus another thing to design around relative to overhead storage, and the small fan on the floor area to work around. I removed all the seats in the rear, left the oem flooring etc. As far as layout for practical use. bed is cross-ways between the wheelhouse area, 6'1" is good enough for us, this is a bench type set up that is easy convertible from bench to bed. Usually, we used a split set up, with the cushions only removed from the front center half. Not sure if I will do a table set up, as we never used the one I put in the Sprinter set up. The "benches" are storage areas for water tank and such, with additional cabinets on left and right sides. Cooking area much like what Orton has laid out. Will most likely place the sink on the driver side, with the grey water tank just below the floor. Seems I'll have to custom fab up a tank to fit in the area, as the ac lines reduce the width to about 9 inches. So I will try my hand at plastic welding... Hot water, still not decided on..leaning towards the portable propane system out the rear, as I am not sold on the full battery and associated I would need to do a small elec set up. Showers are the main reason for the hot h2o, and I will have a set up out the rear doors for this, so. I am attempting to do a smart design without breaking the bank, and a robust elec grid can add a lot of cost. Reflection to how much use I got out of the one in the Sprinter leaves me wondering about cost vs use.
---
XLT Wagon 350, Long, Hi Roof , 3.5, 3.31 Limited slip, with everything I wanted.
To view links or images in signatures your post count must be 10 or greater. You currently have 0 posts.

Senior Member
Join Date: Feb 2014
Posts: 890
Mentioned: 1 Post(s)
Tagged: 0 Thread(s)
Quoted: 296 Post(s)
Quote:
Originally Posted by
orton
One choice I made on the sold Sprinter conversion was to place the sink/counter on the right side at the slider opening so when slider door was open you could see out while working at the sink/counter. Did appreciate that choice so that is being copied on the Transit conversion. When using the portable two burner propane stove on the counter the steam/smells exit straight up out of the van with the door open.
I agree that each person has to consider a lot of factors depending on what's important to them. And like they say, the Devil is in the details.
Regarding factory window elevations (or the available cutout area to install RV windows), one thing I noticed that must be significantly different between your Transit and previous Sprinter is that Transit windows appear much lower. I have not measured this, but since low-roof Sprinters have about 64-inches of headroom (as do ProMasters -- either being more than Transit), I expect that Transit windows could be as much as 10 inches lower.
My wife, who is about 4-inches shorter than I am, can stand in a Sprinter or ProMaster and look straight out. In a Transit it's not possible -- window elevations appear more like in older Ford and Chevy vans.
Which raises another question I hadn't consider before. On the new Transit, if you install a kitchen cabinet at standard counter elevation, will it be higher than the bottom of factory windows?
Senior Member
Join Date: Jan 2014
Location: Occidental, Ca.
Posts: 3,057
Mentioned: 7 Post(s)
Tagged: 0 Thread(s)
Quoted: 1104 Post(s)
Chance:

I only have the window in the sliding door and the two rear door windows with the high roof.

The Transit sliding door is the same height on the Transit medium roof and the high roof so I think the opening is lower than the Sprinter high roof and thus not as easy to see out when standing. Just went out and confirmed that I can not see straight out through the Transit slider. Think I could in the Sprinter. I do have an insulated raised floor that is about 1 1/2" higher than stock. Sprinter had the same floor thickness.

Interesting that the rear doors are different. The opening is higher on the high rood compared to the medium roof.

I have also noticed that I occasionally bump my head getting in the slider door. I did not have that problem in the Sprinter. I am 5'-10" tall. Does not hurt because there is a rubber gasket at the top.
---
2015 high roof 148" WB 3.5 Ecoboost 3.31 LS rear cargo.
Posting Rules

You may not post new threads

You may not post replies

You may not post attachments

You may not edit your posts

---

HTML code is Off

---