Senior Member
Join Date: Nov 2015
Location: Andover MA
Posts: 492
Mentioned: 1 Post(s)
Tagged: 0 Thread(s)
Quoted: 137 Post(s)
Thanks!

The Berg is a real stunner - 55hp, 270 lbs with a full tank. I have only owned it since the fall but wow. It really belongs on the track... the van will help with that.

When I was looking for a van I only wanted one that was not white. The last thing I thought about was a huge yellow van - I have always shunned yellow cars. In the end it was the right vehicle. Used but 700 miles, optioned like I wanted, windows all around cargo. This was not a combo I found often.

I think what sealed the deal was when I showed it to my kids, 4 and 6. They went ballistic - "it's a school bus!". Yeah, dad's buying a school bus.

In the end it just works. The van is huge and bright and in your face - it gets tons of attention on the road. Not for the shy I guess.

Update to come - I have the tracks painted and about ready, I just need to locate and drill the holes for mounting.
Senior Member
Join Date: Nov 2015
Location: Andover MA
Posts: 492
Mentioned: 1 Post(s)
Tagged: 0 Thread(s)
Quoted: 137 Post(s)
I have made some progress with the tracks. I painted black rattle can wherever I milled them so there was no bare metal. I also painted the sliders yellow so that they will be more easily seen when the seats are removed.
This was the first time I used this paint and it was tricky to apply. It is self leveling so that created problems as I had vertical and horizontal surfaces to paint. If I laid it on too thick it would run, too thin and it would weep away from the edges.
In the end I got good coverage through multiple coats but the surface ended up lumpy in spots. Since they are under the seats I decided not to sand or try to smooth it out.
This is a really nice product - on a flat surface I think it would be much easier to get a good result. It dries in 96 hours and seems very durable, I don't question the strength but wish I could have attained a smoother finish.
Next up is mock them up in the truck again and mark the brackets for holes. I will also fabricate and paint the reinforcement plates yellow. The plan if it fits is to run the tracks on the high points of the floor to get a better match with my finished floor. Under the van I am going to run a 12"x2" plate in the rear with two bolts and a smaller plate in the front with one.
Senior Member
Join Date: Jan 2015
Location: Clermont, Fla
Posts: 604
Mentioned: 1 Post(s)
Tagged: 0 Thread(s)
Quoted: 129 Post(s)
---
XLT wagon Silver/Charcoal, 2-12 Passenger (on any given day), alloy wheels, Ionic running boards, various modifications ongoing.
To view links or images in signatures your post count must be 10 or greater. You currently have 0 posts.
.
Senior Member
Join Date: Sep 2014
Location: Canton, TX
Posts: 1,887
Mentioned: 6 Post(s)
Tagged: 0 Thread(s)
Quoted: 486 Post(s)
If you get a chance, look at the window sticker for this School Bus Yellow Transit, VIN 1FTYR2ZMXGKA07997. This shows on the window sticker that it is a factory damaged unit. This is something to look at if you can when buying a used Transit. Forum members have noted others like this in the past.

Notation is at the bottom of the window sticker with the options listing. MSRP for this Transit is $36,855 so selling at $25,589 is a REAL GOOD DEAL on this one!

One thing that is not good. The dealer is stating via CARFAX that this is a one owner Transit and NO ACCIDENTS! NOW>>>>>see why you need to look at this window sticker?
---
Last edited by CrewVanMan; 03-18-2016 at

08:12:AM

.
Senior Member
Join Date: Nov 2015
Location: Andover MA
Posts: 492
Mentioned: 1 Post(s)
Tagged: 0 Thread(s)
Quoted: 137 Post(s)
Yeah I found four total during my search - all identical, 2 '15 models and 2 '16's.

They were technically damaged in transit and not in a road accident. Vehicles damaged in transit are sent back to the factory and titled and repaired. I am no expert but I could not detect any damage on mine, like above the price is hard to beat.

I am thrilled with mine, 2k on it now and on a recent 150 mile trip I logged 23+mpg on the computer at 60. These are really nice vans!
Senior Member
Join Date: Nov 2015
Location: Andover MA
Posts: 492
Mentioned: 1 Post(s)
Tagged: 0 Thread(s)
Quoted: 137 Post(s)
I'm Baaaaaaack!
---
It has been way too long, I have been busy! We had some warmer weather here and I realized none of my bikes were ready to go so I had to divert and get that stuff done. I have little time free so one thing affects another.
If I was going to get my seats in first the van had to get in the garage.
Mission accomplished.
Thankfully I had qualified help.
I ended up taking all the brackets and fittings off the tracks, I needed them clean to maximize my mounting setup.
Here you see the holes for the rearmost seat. Plenty of room underneath but for the right front hole, that is above the fuel tank.
Below is the tracks for the front seats, the holes are in place you just can't see them.
For these seats I went through the floor and cross member, using a longer bolt to go all the way through. Where the tank lies on the 3rd track in I had to forgo the cross member setup and go through the floor with plates. The tank sits right against the frame members and leaves zero room.
Also for the right side front tracks I removed the huge heat shield.
I am using 1/4" steel plate to reinforce, I have the plates cut and drilled, they just need to be painted. I also have to paint the holes I drilled to prevent rust. All the tracks and plates underneath will have Dynamat between the floor and tracks/plates.
For hardware I am using 7/16 zinc plated grade 8 for everything. I made all the holes except for the tracks 1/2" so that there is room for paint and also to allow for 'adjustment'.
Stay tuned!
Senior Member
Join Date: Jul 2015
Location: Vancouver, WA
Posts: 182
Mentioned: 0 Post(s)
Tagged: 0 Thread(s)
Quoted: 41 Post(s)
Love what you're doing with your van, keep posting pics as you go!
---
Hopeful future owner of:
T150 Wagon XLT, RWB, MR, 3.5L EcoBoost, 3.31 LS, Silver, 10-Psngr, HD Tow Pckg, Factory-Intstalled Upfitter Switches, Running Board, Privacy Glass, Keyless-Entry Keypad, Engine Block Heater, Perimeter Alarm, Securilock PATS, Reverse Sensing, Dual Batteries, Short-Arm Power Heated Mirrors, Aluminum Wheels, MyKey, All-Weather Mats, Trailer Brake, Pwr Invrtr, Lane Keeping Alert, SYNC 3 with Nav, Leather 10-Way Pwr Frnt Seats!
Senior Member
Join Date: Sep 2014
Location: Canton, TX
Posts: 1,887
Mentioned: 6 Post(s)
Tagged: 0 Thread(s)
Quoted: 486 Post(s)
The price of the Yellow Bird clone has been changed from $25,589 to $23,998. On the first listing, they had the window sticker available for viewing and you could clearly see the notation 'DAMAGED UNIT' at the bottom of the window sticker. NOW>>>>they have removed the link for the window sticker. For a MSRP of $36,855, you are looking at nearly $13,000 discount on this Transit.
Senior Member
Join Date: Oct 2015
Location: Camarillo, SoCal
Posts: 337
Mentioned: 1 Post(s)
Tagged: 0 Thread(s)
Quoted: 95 Post(s)
Quote:
Originally Posted by
klp
I got all 3 recliners in. Nothing is bolted down but this is about where they will go.
I hope there is nothing underneath that interferes as I have not looked around under there too much yet.
With all the seats in this position I have about 5' clear in the back. With them slid all the way forward I have 7'.
I will also install a non recliner to the right of this one - I don't have the tracks yet.
Thanks for posting this up. I'm in progress on a moto van and want to do similar seating. I'm seriously considering a 1st row setup like you did then a 2+2 full width bench behind that so I can mount either 2 or 4 in the 3rd row.
I think we need a Moto Van sub forum under this section as there are more than a few of us building them.
---
2016 T250 148" MR Cargo 3.2L 3.73 LS all around windows
Senior Member
Join Date: Nov 2015
Location: Andover MA
Posts: 492
Mentioned: 1 Post(s)
Tagged: 0 Thread(s)
Quoted: 137 Post(s)
Seats are in!
---
No pics of them but trust me they are in! Raining here hard, I will post some later.
I started by painting any holes in the floor or frame.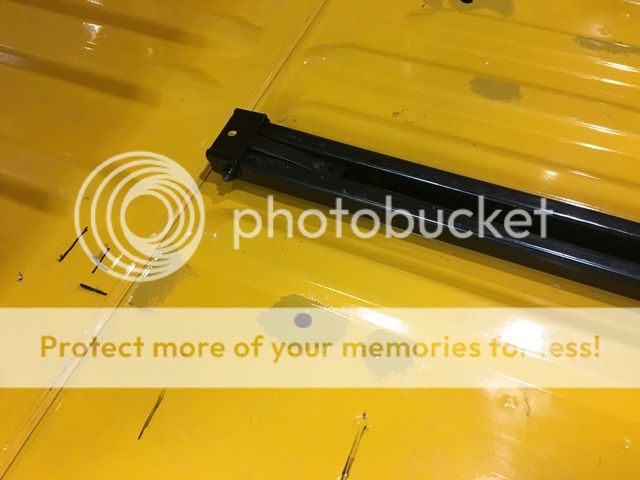 Below is passenger side.
This is the drivers side along the fuel tank. If you look close you can see the wire stub of what I think is the accessory tow package connection.
Here is a couple pics of the plates I made - again I ended with a poor finish but under the truck I don't care so much. I think my prep was not all it could be.
Finished plates ready for install. You can see bits of wood stuck to them lol.
I put Dynamat under all the tracks.
I had 4 square feet to start - this is what I ended up with.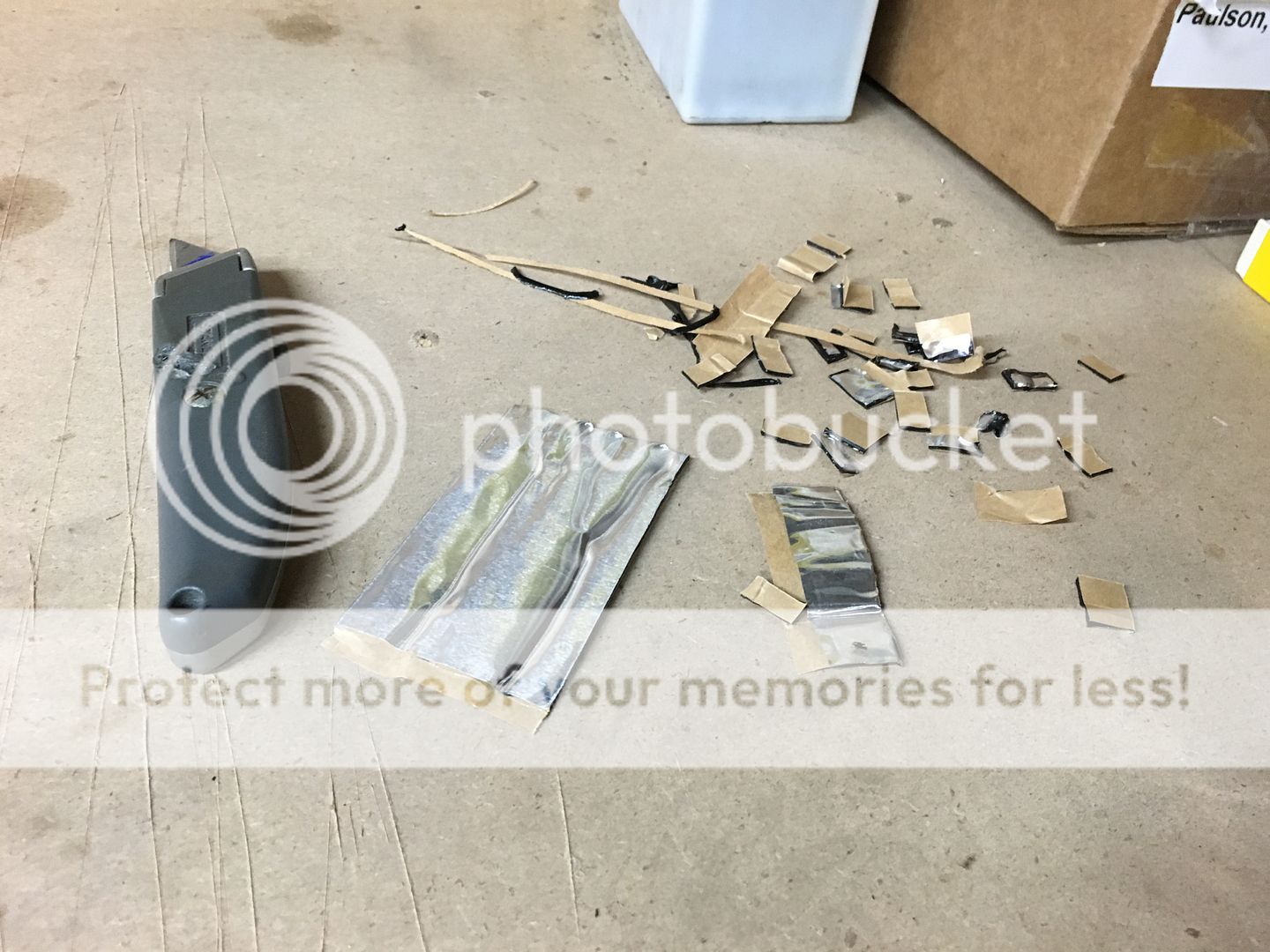 Forgive the quality of the shots - the only thing worse than crawling under a van is taking pics under one.
This plate sits above the tank. The one error I made allows contact of the housing on top of the tank to contact the nut. Does anyone know what is in there? The lump on top of the tank? I plan to drop the tank again and address it once the rain stops.
Where I bolted through the cross members I plan to go back and double nut for security - to much torque could crush the frame. The holes with plates are super tight and secure.
And this is how it all ended lol.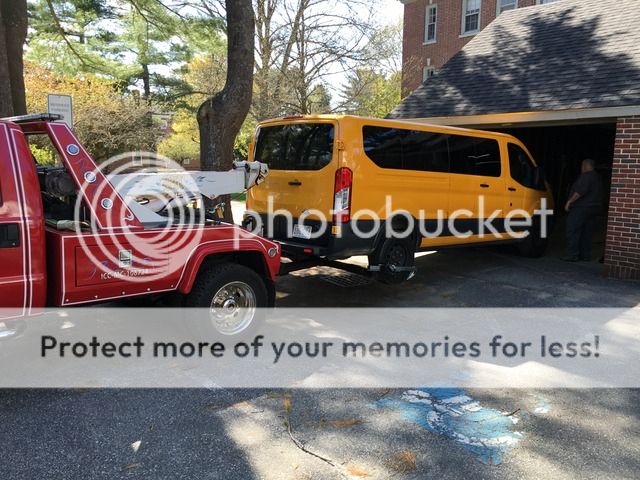 After 3 weeks in the garage my lights flickered and died. I thought nothing of it and charged the battery overnight - no change. The battery read 3 volts. Ford picked it up, I had it back within 24 hours with a new battery. All is well.
I am not sure what to do next. Sound deadening and floor make the most sense. I am not sure I can finish both of those before mid june though.
Thanks for watching and encouraging!
Posting Rules

You may not post new threads

You may not post replies

You may not post attachments

You may not edit your posts

---

HTML code is Off

---