Member
Join Date: Dec 2016
Posts: 82
Mentioned: 0 Post(s)
Tagged: 0 Thread(s)
Quoted: 31 Post(s)
Thanx, great write up and pictures.
Totaled my (finished) Sprinter a month ago and I'm now starting a T350 HR. I like your efforts towards sound. I did many of the same things in the Sprinter. It ended up much quieter than my RDX. A couple of comments on noise:
* Close all the doors on a piece of paper to see if they are snug. I ended up re-hanging 2 doors and adding a thin rubber gasket to the front Sprinter doors.
* I used products from Steele Rubber to make a second sealing gasket (in addition to factory) for the slider.
* I also added a thick soft foam layer at the bottom of the slider to seal against the side of the lower step.
* I made a foam block to fill in the cavity of my Fantastic Fan.
* I built an air deflector (45 degree ramp) in front of the roof fan and solar panels. This kept branches from getting caught and reduced noise.
* I found that anything that was stiff that connected the outside to the inside also brought in noise. When I added foam and insulation there where a lot of places to trim to prevent a pressure fit.

I think it really did make a difference and made it much more pleasant to drive.
Ron
Senior Member
Join Date: Aug 2016
Posts: 607
Mentioned: 2 Post(s)
Tagged: 0 Thread(s)
Quoted: 202 Post(s)
Quote:
Originally Posted by
klp
d
The material I used on the entire floor is mlv bonded to closed cell foam. The foam decouples the noise, the mlv blocks it. In theory. The seat pedestals are mounted on four raised discs so I cut around them to prevent raising the seat. What I did not notice on the first side I did(passenger) was that the rear of the pedestal runs about to the metal floor. I carved away some of the foam but it still sat high. I used the bolts to snug it back tight. Not perfect but good enough.

On the drivers side I relieved all the foam under the rear of the pedestal so I had no issues. I did have an issue with the step trim on the passenger but it looks fine.
I've been slowly following your footsteps to a large degree. I've been using Noico in weather close to freezing. Instructions say it has to be applied at 53 degrees or higher but I don't have the patience to wait that long. Some nice advantages to breaking the rules because in the cold the adhesive backing while still usefully sticky is much less so. In all the tight maneuvering necessary it makes it a lot easer to shift pieces into place (difficult enough as is). Once I have it in place I use a heat gun to warm things up enough to roll. I've completed the passengers side and am now at work on driver's side. Funny, when I got to the step plate it bugged me how deep the corrugations were so I've been filling them in first with pieces off a 100 sf roll of MLV. Last night when I looked up your series of photos when you were doing the step plate I realized for the first time you did the same thing. Even though I've been through your thread numerous times there are an untold number of things I forget because at the time it was too far off and unfamiliar for me to grok them.
Anyway, now I'm envious you have the decoupled variety of MLV. I presume the MLV sits on top of the foam, not the other way around? The adhesive is on foam not on MLV? It would be so difficult to force adhesive backed Noico up under the floor mat on the driver side I instead forced up a panel of MLV that will be in place but not adhered by anything. Ditto up the side of the hump on the driver's side. Too much hassle to remove the handbrake so I can remove the seat pedestal entirely so instead I tip it on it's side lifting the outside edge about 8 or 9 inches so I can work under the floor mat far as I can reach.
This gets to be more fun as I become more comfortable with the process. I've been using 50mm Noico instead of the greater quantity of 80 mm that I have for the back of the van. I felt unsatisfied with it at first and finally began to double it by adding an extra layer and it has made an audible difference for certain, at least when I tap. You are so correct about how noisy the step plate area is.
---
2017 Transit CV, MR LWB, 3.5 EB, LS 3.23, Silver Ingot, Lthr 10-pt, Al whls, HD alt, Trlr Tow
---
Last edited by BabyBuffy; 12-30-2016 at

04:10:PM

.
Senior Member
Join Date: Nov 2015
Location: Andover MA
Posts: 492
Mentioned: 1 Post(s)
Tagged: 0 Thread(s)
Quoted: 137 Post(s)
It has been a while since I posted, I have been busy with a new job that doesn't leave me a lot of van time. I have finished up the Thinsulate in the roof and glued in all the sides. Insulation is done. The only other thing I plan to do is use some soft materials inside to soak up airborne noise.
The van is parked for the winter in my garage which feels really good. I have a little suv to drive daily, this way the van is always ready for work. Most recently I have been sanding the floor.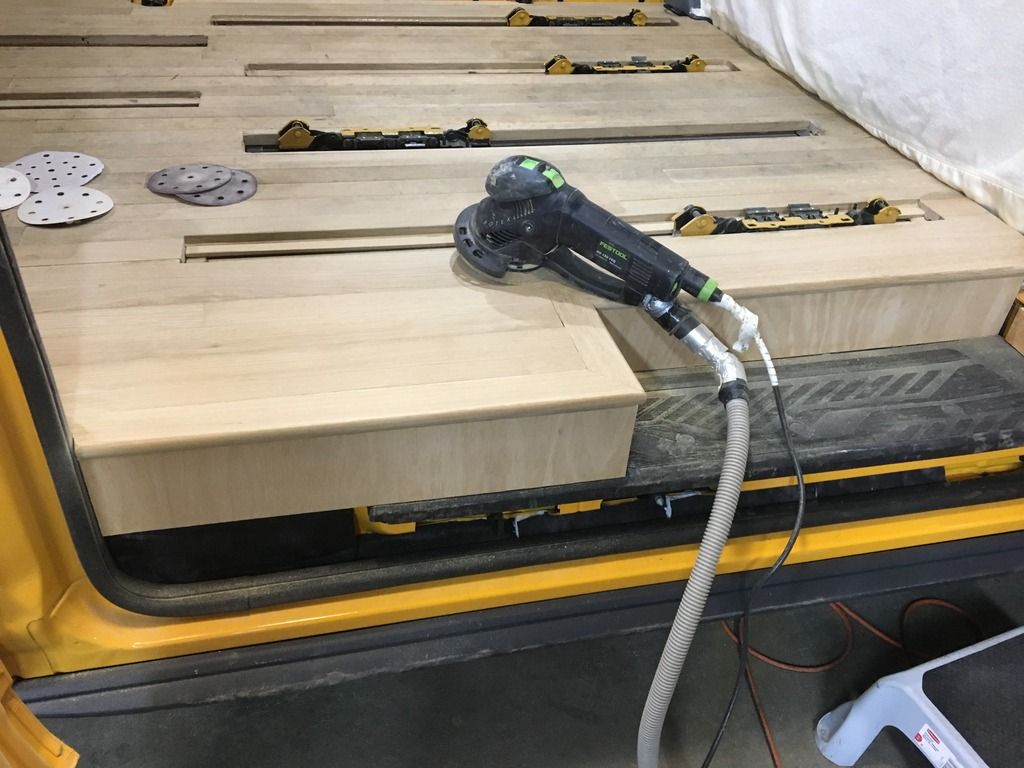 If you have never sanded white 1/4 sawn oak you are not missing much! This stuff is a bitch even with my brothers fancy sanders. Some boards are harder than others so you can end up with a wavy surface instead of flat if you are not careful. I ended up sanding the whole floor with a belt sander first to get it all flat - the sander above is fitted with 80 grit, I will likely hit it with 100 and be done. we will see.
I built these last week, blanks to fill in the tracks when not in use. Most of the time the seats are all the way back, why would you want them in the middle anyways?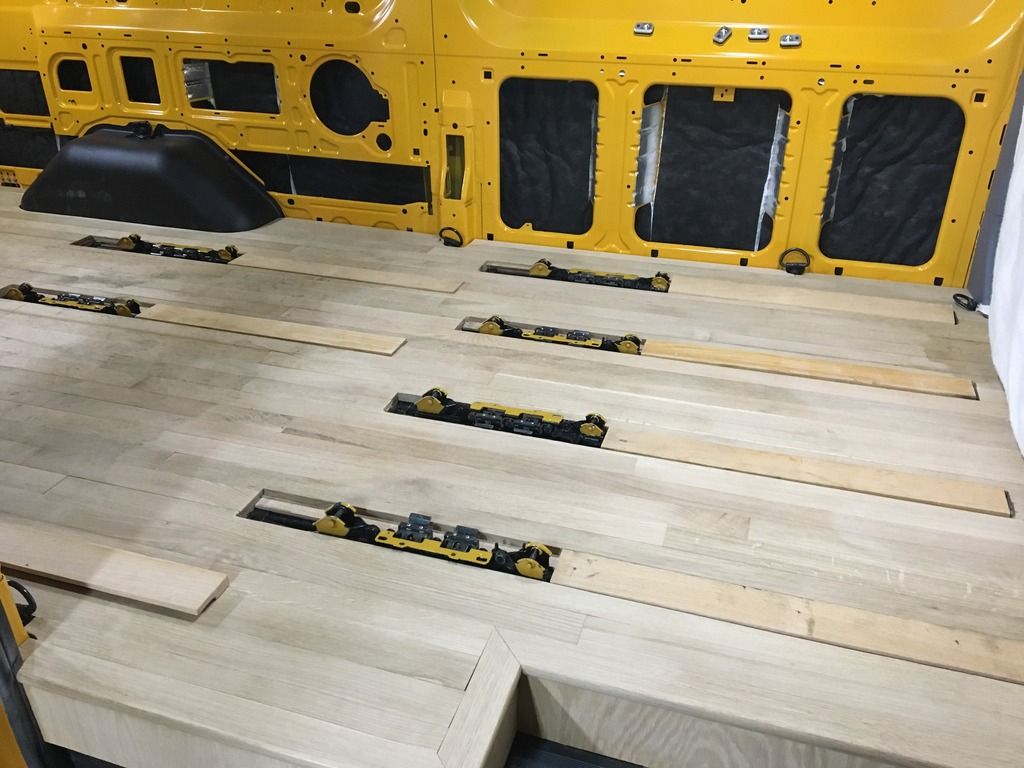 If I cut 2" off the short track fillers they will all fit either full front or full back. Not a huge difference but it will be a lot nicer walking around in there and while camping. Here the fillers are proud of the floor, I made them thicker than I needed as they are not all consistent. I will sand them to fit.
Some of the in process shots. This is from the belt sander, it makes one **** of a mess even with a vac attached to it. In the end I gave up and ran it sans vac and just blew out the van once in a while with compressed air.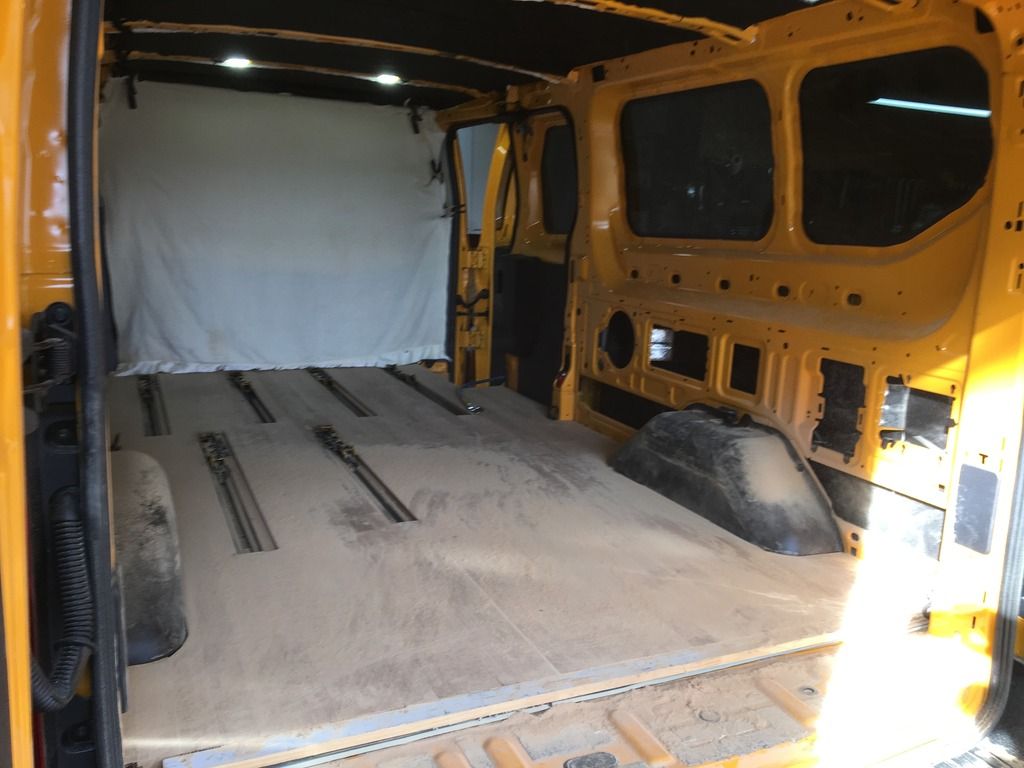 I thought about taping off the sides and all that but it seemed too much work even for me. The air does a decent job, after a careful vac I can see a day where there will be no dust in my van. Not anytime soon though.
Here you see the fruits of my labor. Probably 3 good hours to get here.
It's all nice and flat now, short of some detail work around the edges it is done. I have all the insides of the tracks to do as well, I want to do that first then finish fit the fillers.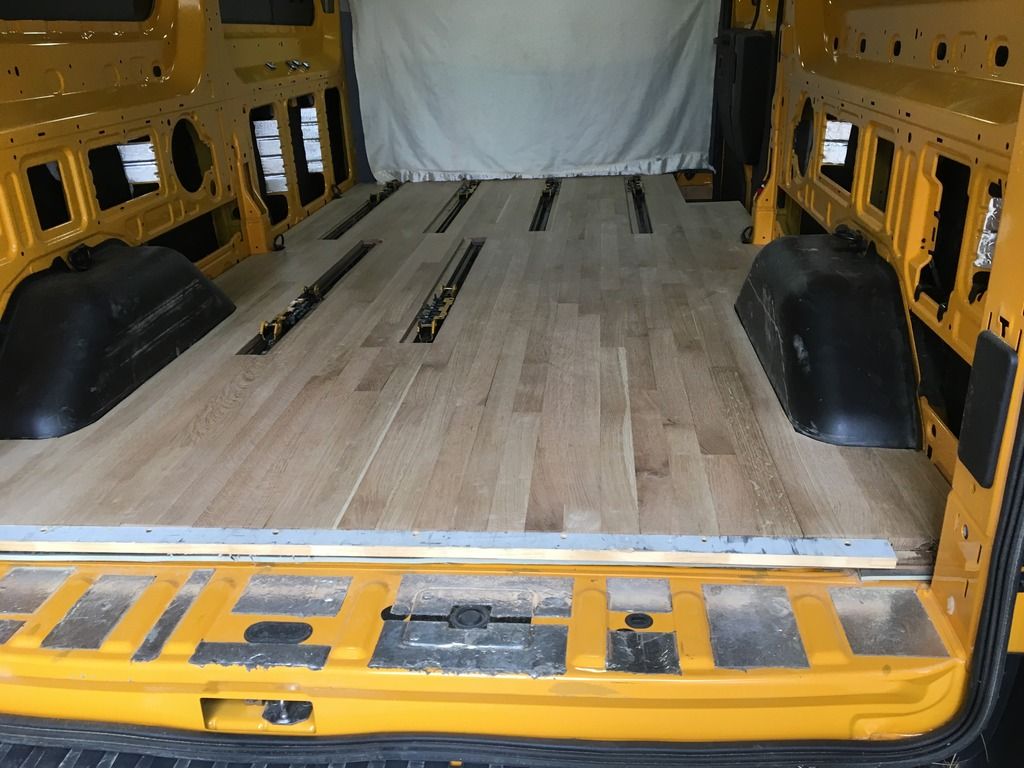 Next thing I plan to do is hit all the cracks with white oak filler then finish sand as fine as I dare. Stain will be dark, probably black but I need to do some more samples. Once stained I will poly then color matched putty for any remaining voids. Then a bunch of poly coats.
It's going to look real nice. Once the floor is done I am not sure what I will do next, I am leaning towards passenger swivel. I have the hitch to install and wire but other than that no project materials on hand. Maybe fogs. I feel like it is all stalling for the interior build as I don't yet have a comprehensive design idea.
The moto hauler concept is on hold, I will haul only one bike inside up the right side. I am shopping for a nice enclosed trailer to haul bikes and gear.
Finally a parting shot of the carnage. My poor bikes are not only covered in sawdust but not one has had a bit of winter care. Looks like I have a busy spring ahead.
---
Last edited by klp; 01-17-2017 at

11:15:PM

.
Senior Member
Join Date: Nov 2015
Location: Andover MA
Posts: 492
Mentioned: 1 Post(s)
Tagged: 0 Thread(s)
Quoted: 137 Post(s)
Slow steady progress
---
I have been working hard on the floor finish. Pre finished flooring would have been nice!
This is about where I am at currently. The blanks are in and sanded, floor has been sanded with 100 grit.
Last night I filled the holes in the fillers, filled and started to sand the tracks. I still have some finish work to do in the tracks and another coat on the fillers. The floor is about done, any remaining voids I will fill with color matched putty after staining.
I have still not decided on stain color but I am leaning towards charcoal or black.
Once I am done with all of this I will bring the van to my brothers to build the front and rear thresholds. They have to be in before staining/finish sanding.
Given my free time with my new job I have decided to finish the floor this winter, install the trailer hitch and wiring then put a swivel on the passenger side. I may section the mounting box to maintain stock height on the passenger seat.
Then I will use the van as is this summer, I hope to have 6-7 camping/ moto trips. Next winter will be the interior build out.
Senior Member
Join Date: Nov 2015
Location: Andover MA
Posts: 492
Mentioned: 1 Post(s)
Tagged: 0 Thread(s)
Quoted: 137 Post(s)
Floor's done!
---
I have had a busy winter work wise but I have steadily worked on the floor.
This is the floor with just stain - I went with Spanish Oak, it looks darker in person.
This is my attempt at an artsy shot lol.
This is about what it looks like now, it is still wet in the pic but it remains shiny even when dry, I went with a semi gloss finish.
You can see the plywood on the kick plate took the stain a little different. It would have been nice to wrap the threshold in oak flooring too but it is done.
This shows the color a bit better but you need to see it in person to really appreciate the grain - it looks awesome! I did the filler strips too.
I am considering mounting these in place of the front seats. The stockers have no airbags so I would not be giving anything up.
The color is a little off from the others and the design is a little different but I don't think it will look horrible. This shot gives an idea of the differences.
These are much nicer than the Ford plus they are leather. I would also gain two real armrests and they each do this -
This would give me a small table on either side when needed. I
I plan to swivel both sides. I found these sweet kid bunks called Cabbunk.
http://www.cabbunk.co.uk/
These are $415 shipped so I am thinking of making my own.
Future work includes lowering the e brake, mounting the new seats, finishing the thresholds. I spent some $ on Amazon last week, I got 3 nice Coleman chairs, a Road Trip grill and a bunk bed cot to run up the left side in the rear.
I am also planning to purchase a 12v fan and a Goal Zero to power it, some lights, recharge stuff. Sort of a home brew house battery setup to see what works for me.
---
Last edited by klp; 03-20-2017 at

12:51:PM

.
Senior Member
Join Date: Mar 2015
Location: Central-Florida
Posts: 347
Mentioned: 0 Post(s)
Tagged: 0 Thread(s)
Quoted: 79 Post(s)
The oak looks great!
It's always nice, putting the finish on and seeing the final result.

Van Williams
---
Replace(d) my old Dodge B-250 with a new Ford Tansit-250 LWB Medium Roof and convert it into a full-fledge RV with ultimately all amenities imaginable!


To view links or images in signatures your post count must be 10 or greater. You currently have 0 posts.

Junior Member
Join Date: Feb 2017
Location: southern Oregon coast
Posts: 6
Mentioned: 0 Post(s)
Tagged: 0 Thread(s)
Quoted: 2 Post(s)
Hi KLP:

Nice Job!

Do you have the part number the wheel well covers?

Thanks
---
2016 mid length, low roof 3.7L
Senior Member
Join Date: Nov 2015
Location: Andover MA
Posts: 492
Mentioned: 1 Post(s)
Tagged: 0 Thread(s)
Quoted: 137 Post(s)
Thanks!

I don't remember what the part #'s are for the covers, sorry. I bought them from my local dealer and didn't pay much attention. I do remember you need four fasteners, they run about 30 cents apiece. I think I paid around 80 for the covers.

If I could install mine again I would layer as much insulation as I could in there.
Senior Member
Join Date: Nov 2015
Location: Andover MA
Posts: 492
Mentioned: 1 Post(s)
Tagged: 0 Thread(s)
Quoted: 137 Post(s)
I feel blessed to have friends to share in not only the fun of using the van but also the joys of creating it. Several of my closest friends share my OCD level of detail and understand the efforts that must be undertaken simply for the joy of building the best we can. It has been very rewarding.
The latest chapter involves making window covers somewhat like the ones Belloinsella makes.
This is what it looks like in process, the heat of the battle if you will.
My friend is a ferocious creator of all sorts of stuff - she took to window templates with a determined and measured approach that yielded great results. In the better part of an afternoon and evening we made accurate cardboard templates for the rear most two side windows and the rear doors.
This is held fast by a bunch of craft store magnets on the back side.
This photo gives a good feel for the light blocking ability of the setup.
This is a lovely result, very pleased. It is nice to have the immediate result even if the covers are not built yet. I now plan to study materials and figure out what to make them out of. I am leaning towards 1" thinsulate sandwiched between nylon canvas with a diamond stitch to keep everything tight. I would love grey or silver inside and black exterior. I am also thinking I need to source some super strong magnets, the craft store ones I bought do not jump onto the metal quite how I envision it.
Parting shot.
This was far from disgusting, a nice way to enjoy a break with friends. My buddy roasted this up while we worked.
Win!
Senior Member
Join Date: Nov 2015
Location: Andover MA
Posts: 492
Mentioned: 1 Post(s)
Tagged: 0 Thread(s)
Quoted: 137 Post(s)
I got the rear most templates done, have them held fast with magnets for now just to get a feel for it.
I like them a lot, really makes the van more private and comfortable. When I make the real covers I will probably run these six all the time.
I got these cots the other day and they are great. Super sturdy, not too hard to set up. I plan to use them this summer while I plan the interior build out to include the beds.
They also fold out into a makeshift couch, should be pretty useful for camping. I am considering strapping them to the wall so they can be setup all the time.
I got a swivel installed too - these things are great! I got the Discount Van one, it sits real snug with little wobble or play with the seat on it. It really opens up the space in the van.
If you are OCD like me the build quality of this unit is awful for something costing $200. Shite welds, poor finish and like many others my bolt holes for the base needed some adjusting. The seat track ones were not spot on either but the tracks have enough give so that they bolt up no problem. Once in it swivels with some resistance but feels nice. The height is going to take some getting used to but is not a deal breaker.
For those with low roofs be advised the height does eat up some valuable headroom. I am 5'9 and have about 5" over my head, those much taller than me may have an issue. With the seat in the above position it is even tighter as the sun visor eats up some clearance though I think I can lower the visor to gain room.
I still have not given up on mounting the Sienna seat here but it presents some design challenges - the biggest one being an increase in height beyond what I have now. I will at least run the OEM seats for this summer.
I have not checked yet but if this swivel will work with my single battery setup I am going to run one on the drivers side too. Next up I plan to lower the e brake and install my trailer hitch and wiring. I still have the thresholds to finish, this coming weekend I hope to make more progress on my window covers. The van is really taking shape now, I can't wait to camp in it. Probably be May at this point.
Posting Rules

You may not post new threads

You may not post replies

You may not post attachments

You may not edit your posts

---

HTML code is Off

---